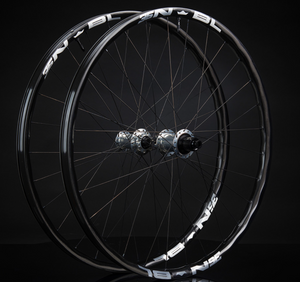 Custom Nobl TR35 wheels, handbuilt in Colorado, with your choice of hubs from Chris King, DT Swiss, Hope, Industry Nine, Onyx, Project 321, Shimano or White Industries.
Podium seekers, adventure riders and trail bosses look no further — the TR35 has arrived. Meticulously designed to be lightweight, durable, and with a wider stance for more traction, the TR35 is our lightweight, wide track XC & trail rim.
TR35 rims share the same design principles as the TR32 but in a wider format for more aggressive XC or "downcountry" riding. They have a sloped and slightly oversized bead seat for a reliable tubeless fit. Built into the mold, is a flat area at the valve for improved seating of the valve collar.

TR35's have more side stiffness compared to the TR32's and less vertical stiffness than the TR37's. Coupled with the lower hole count and wide format, their ride-feel sits right in between the TR32's and TR37's. The nearest comparable offering in our Legacy series is the TR36. Heavier riders may still prefer the TR36's due to the increase in wheel stiffness and ability to run 32h as an option.
Front Specs
Front Weight – 29″ 395g
ERD – 29″ 599mm (bed to bed 597mm)
Exterior Width: 35.5mm
Asymmetric Offset: 2mm
NOBL TR35's are front and rear specific featuring 2.5mm hookless lips on the front. The slightly wider 30.5mm internal width suits a high volume tire. It's also 40g lighter than the rear rim.


Rear Specs
Rear Weight – 29″ 435g
ERD – 29″ 599mm (bed to bed 597mm)
Exterior Width: 35.5mm
Asymmetric Offset: 2mm
The hookless bead "lips" in the rear rim are thicker than the front, at 3mm, for more impact protection, resulting in a 29.5mm internal width. This creates a more balanced feel between wheels and works great for 2.3" – 2.6" tires.